This tutorial explains in simple steps how to make calls with the Wildix for Zendesk integration. The most common functions are covered, for those that are not described refer to the "Get help" button at the bottom left of collaboration or check our help page.

This instruction covers the following topics:
Wildix for Zendesk provides call center functionality and gives you the tools to take control of your phone system.
Before you can make calls, you will receive by email the link and login details for the online environment of Wildix collaboration. This application is required to make calls in Zendesk.
You start Wildix Collaboration from the browser, always use the Chrome browser for an optimal experience and make sure you are always logged into collaboration when making calls in the Wildix Zendesk application.
Login in collaboration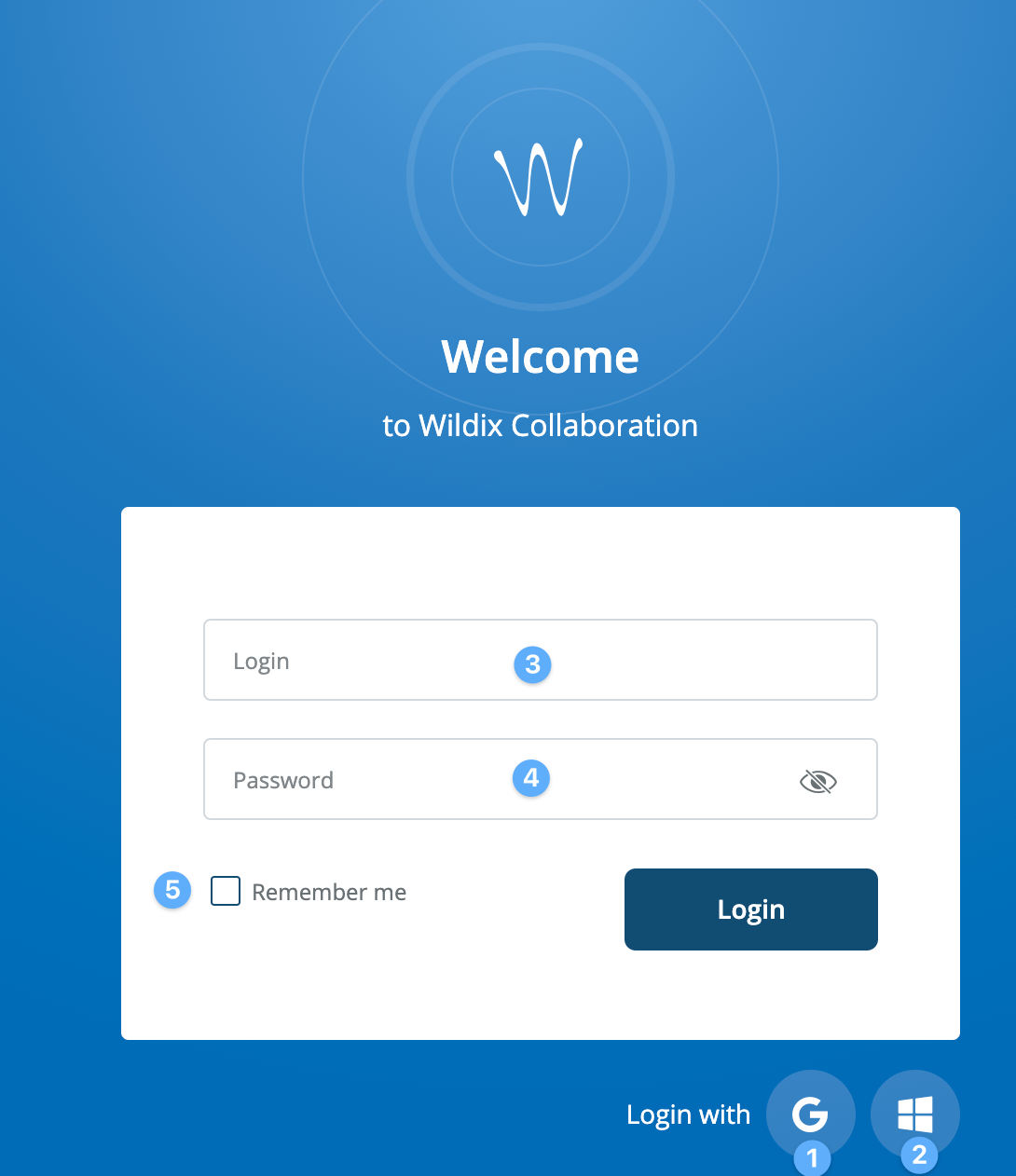 Login can be done in three ways, either with a Google Mail account or a Microsoft Office 365 account. In the welcome email you will receive the password and extension number to log in. The extension number is your short phone number by which you can be reached by your colleagues.
Login with a Google Mail account
Login with an Office 365 account
Enter extension number
Password
Save the password and extension number
Setting up the headset
After logging in a check is required to set up the headset and test it with the echo button. Is the headset connected, go to settings and follow the settings.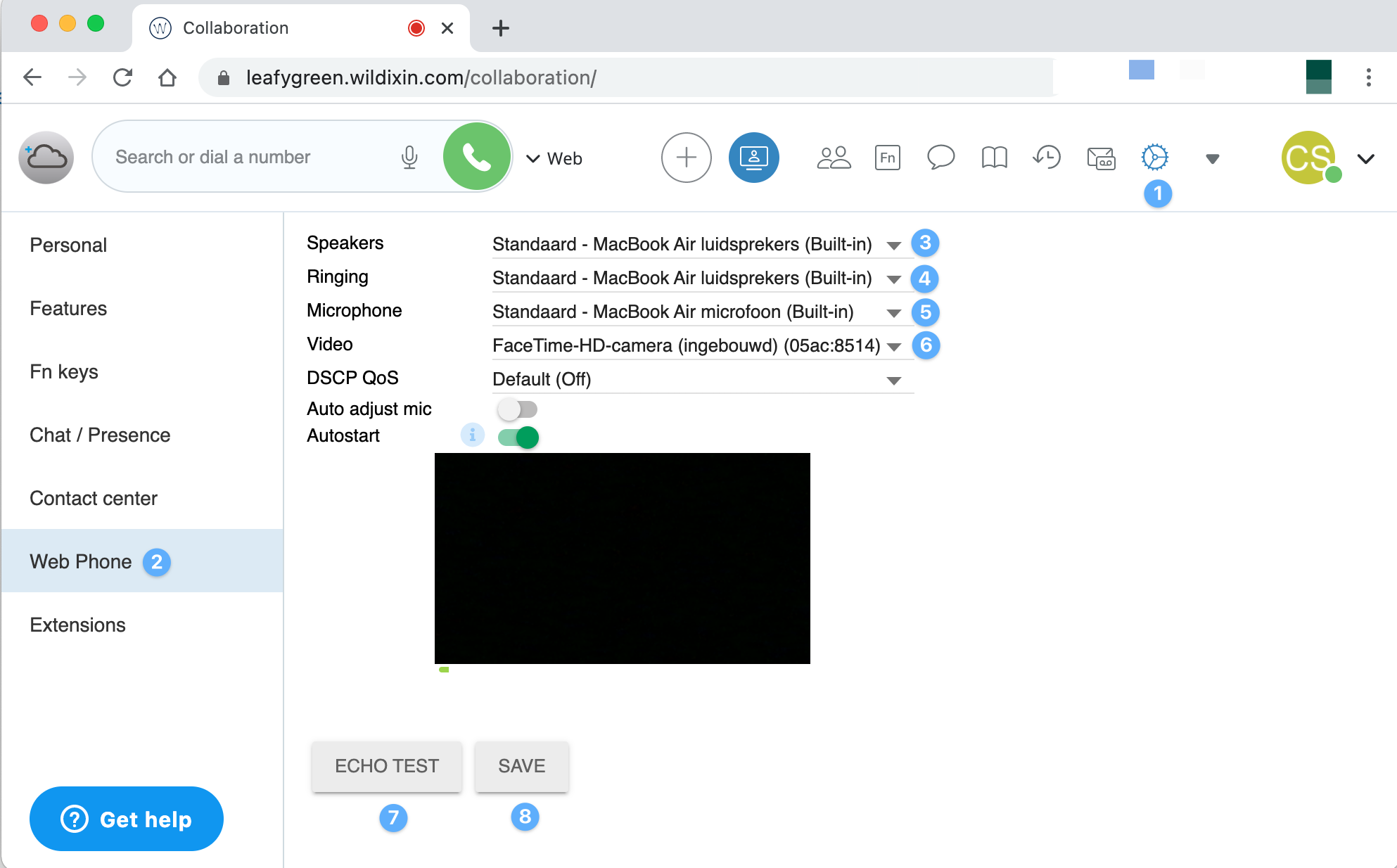 Go to settings
Choose Web Phone
Sound going through the speakers of the headset
Call signal is hearable in headset or through computer/laptop speakers.
Choose microphone of the connected headset
If necessary, set up the camera via laptop or computer here
Echo test to check if both microphone and headset are set correctly
Save the settings
Contact center
If your organization uses dynamic or fixed call groups you have the option to log in and out of the call group yourself. You can configure this under Contact center, make sure you are logged in "sign-on" and "Unavailable on away" is active. Then select in which group you want to receive the incoming calls. If you do not have this option, then you are locked into the call group and dynamic logging in and out, is not possible.

Go to Settings
Go to Contact Center
Activate Off and on in the call group
Activate Off and on current status in the calling group
Select the call group where you want to receive the incoming callers. If you cannot activate this checkbox it means that you are locked into the call group and the dynamic login feature is then not activated
Wildix collaboration
Select (1) which application will be used to make the call, through a landline, web or all at once. If you only use a headset then always select web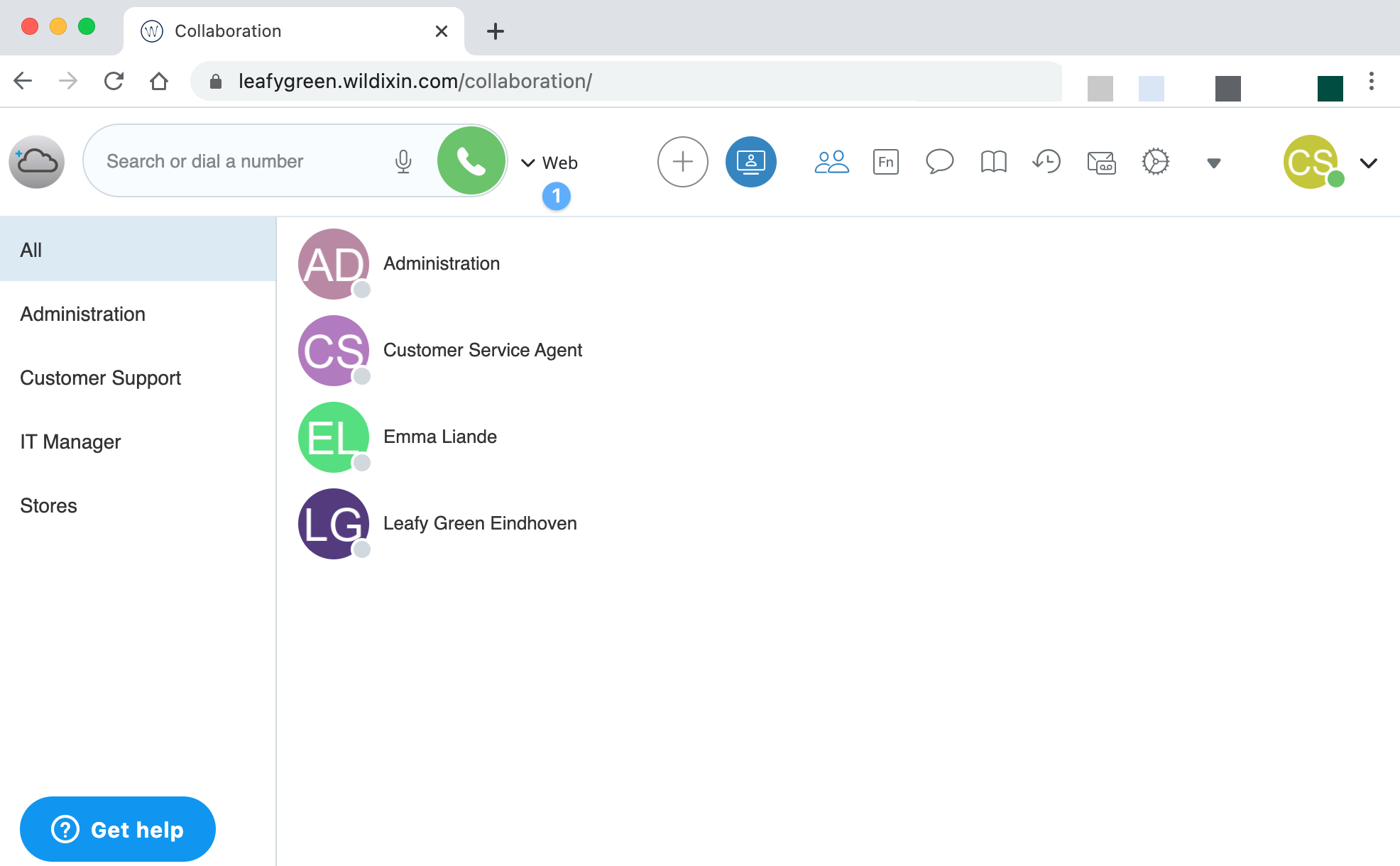 Entering phone number or name
Button to activate calling
Overview of colleagues divided into groups or departments
Shortcut keys
Chat functionality
Call history, in- and outgoing call traffic of the user
Overview of colleagues separated into groups or departments
For the online status of all or some colleagues, go to colleagues in the overview. When you start collaboration for the first time, add your colleagues in the steps below.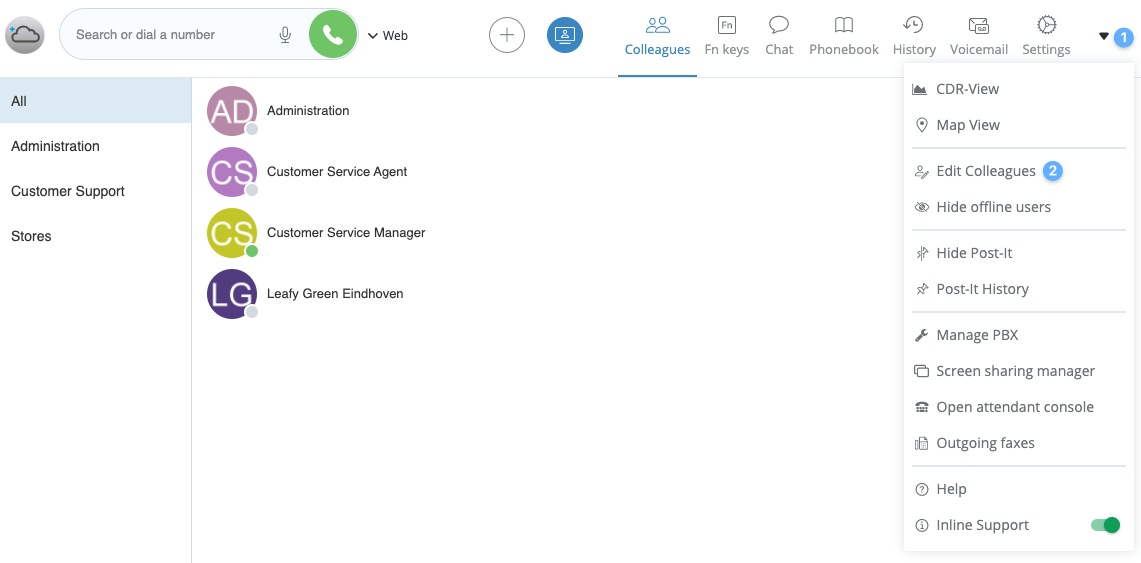 Select the down arrow
Select (2) edit colleagues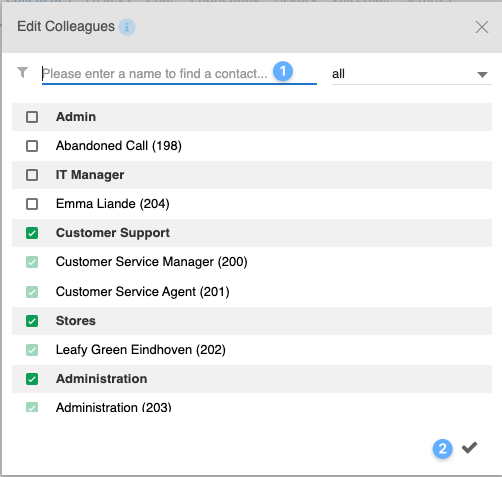 In the search field you can search for your colleague or group by name.
Check (green checkmark) the group and people of your choice and confirm.
Overview of shortcut keys
Under FN are all the speed dial buttons (when configured). With these buttons you can directly call a call group or activate certain settings. For example, if there is an escalation and an additional message needs to be played or a transfer to another number then this can be done via a hotkey. On request we can configure this for you.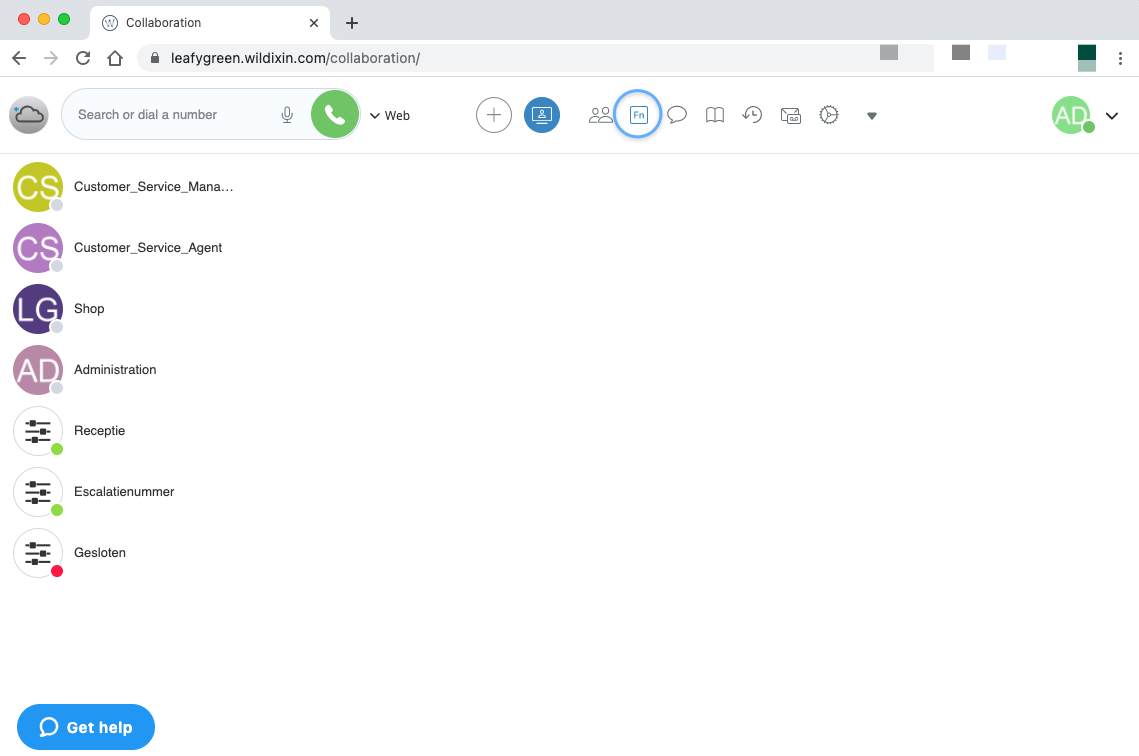 Login Wildix for Zendesk app
After logging into Wildix collaboration, go to the Zendesk dashboard and log in with the same login credentials as in Wildix collaboration. If no login account is visible in your Zendesk environment, ask your team leader or responsible person with admin rights in Zendesk that this is still activated.

Activating the Wildix for Zendesk app
Login with extension and password
When logged in select on your profile 1. and choose here as device Web 2. if not checked.
To logout, choose Sign out 3.

Making calls with the Wildix for Zendesk app

Input field for phone number or name
Customize Status online, DND or Away
All recent incoming and outgoing calls
All incoming and outgoing calls
Contacts and colleagues
Incoming calls

Disconnect call
Record call to listen back later, when not set up automatically
Transfer call hot or cold
Pause call
New ticket is automatically opened in Zendesk when there is an incoming call
Registration of voice recording in ticket
After a call, the recording of the call is automatically added in the ticket.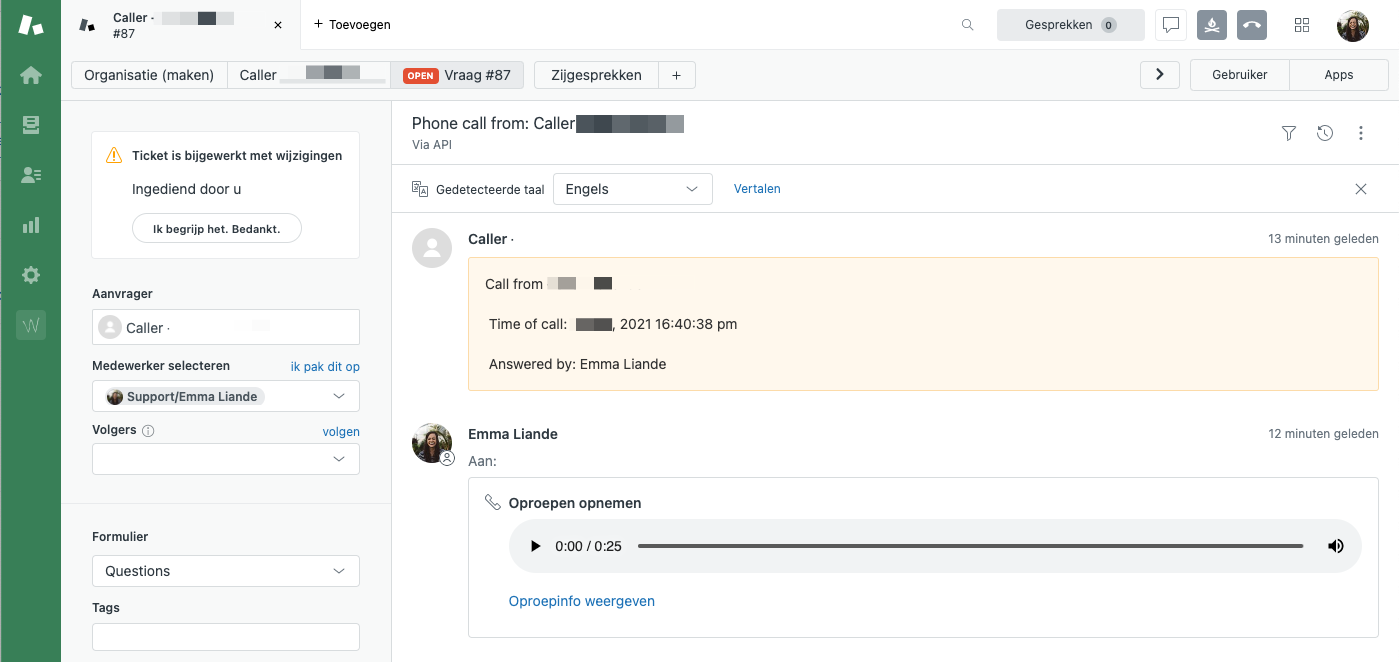 Transfer incoming call
For an incoming call, follow the steps below if the call is to be transferred.

When transferring a call first select pause
Select transfer

When transferring, there are several choices:
Transfer to your colleagues
Transfer in the contact overview
Transfer to the speed-dial groups (if configured)
Search field for your contact or colleague

After making a selection, choose direct (cold) or call (warm) transfer:
Enter the name of your contact/colleague here
Select here for transfer
Hot transfer with pre-announce
Direct transfer without pre-announcement
For questions and/or comments, please contact us via chat, email help@pluscloud.nl or call
+31(0)40-4014004 the chat functionality can be found in Wildix collaboration.