This article
is not available in your language. The original source language is shown below.
Wanneer u gevraagd wordt om een trace bestand te downloaden, volg dan onderstaande instructies.
Om een trace te kunnen downloaden moet u toegang hebben tot de online centrale (pbx). Hebt u nog geen toegang tot de centrale, dan zorgen wij ervoor dat u de juiste rechten krijgt. 
Stap 1. 
Ga in de menubalk van collaboration naar de pijl die naar beneden wijst. 

Stap 2. 
Kies voor Beheer PBX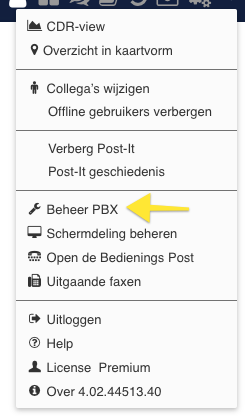 Stap 3. 
Ga naar de tandwieltjes en kies daar Tools and Utilities en Generate Trace. 

Stap 4. 
Druk daar op stop en een bestand wordt gedownload, dit bestand svp opsturen naar het openstaande ticket of als dit nog niet het geval is naar help@pluscloud.nl 

Wij gaan de trace dan analyseren voor verder onderzoek en houden u op de hoogte van de uitkomst.